News
Global Technology Group Relocates to Refurbished Facility at Stafford Park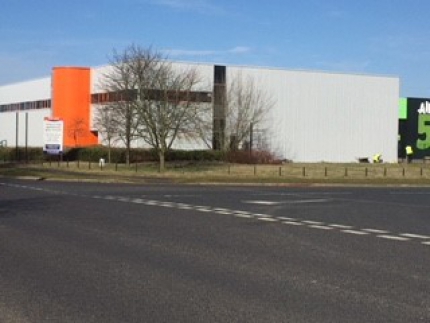 Andrew Dixon & Company reports the letting of Warehouse B, Stafford Park 12 - a detached warehouse extending to 14,120 square feet with integral two-storey offices, yard and car parking. The property, which has been extensively refurbished, has been let to global technology group, Getac, who are moving from the Nedge Hill area to expand into self-contained and secure accommodation.
Nicholas Dixon, who handled the transaction, commented "The client chose to undertake an extensive refurbishment of the former storage building, and once Getac became interested in the product they were fully involved in the process of the £300,000 refurbishment contract. Getac have taken a long term lease on the premises at an undisclosed rent".
08/05/2018
Review of 2017
2017 REVIEW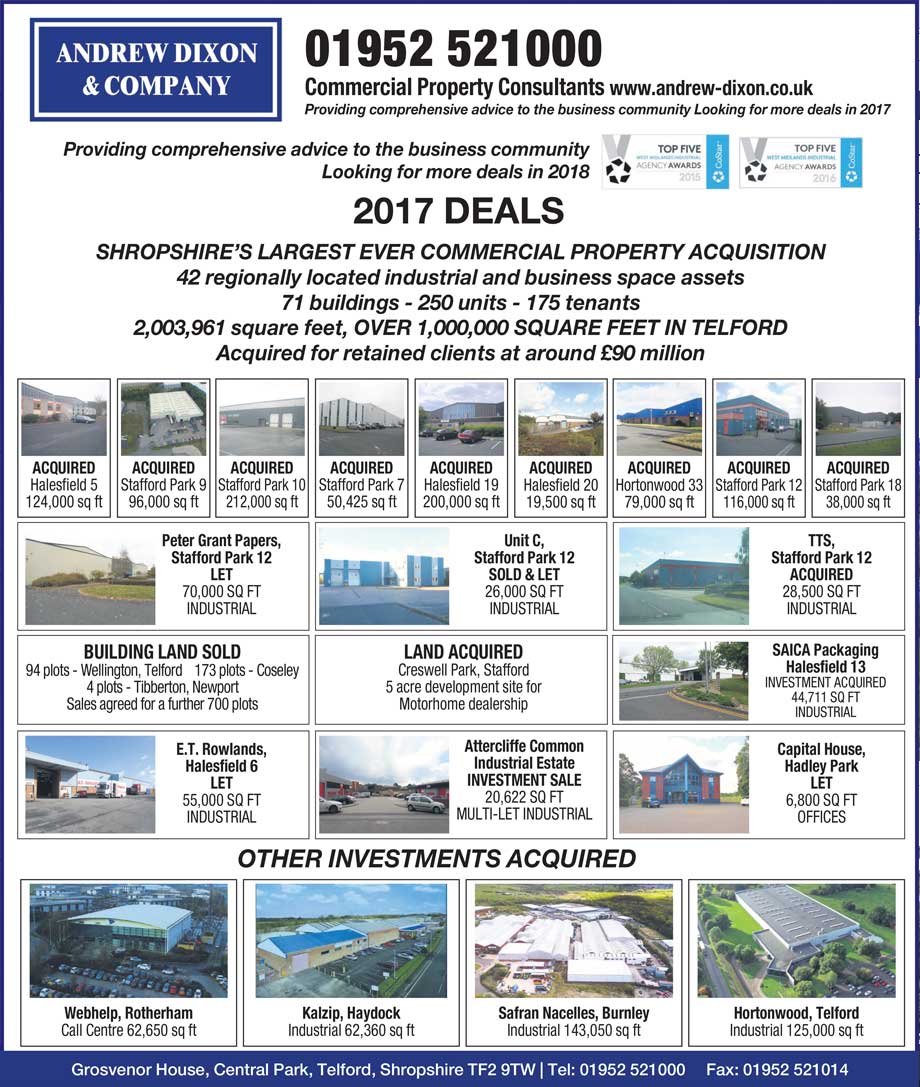 09/01/2018
Freehold Sale of Lawley Village Management Centre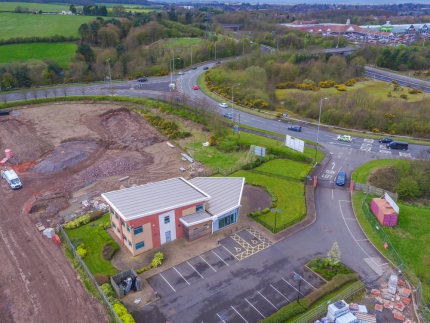 Andrew Dixon & Company reports the completion of the freehold sale of Lawley Village Management & Visitor Centre on behalf of the consortium of residential developers who have used the property as their marketing hub. The two-storey office building with significant car parking sitting astride Junction 6 of the M54 motorway was marketed as a freehold opportunity and was purchased by tender by local solicitors, Fodens, for their own occupation.
Nicholas Dixon, who handled the transaction, commented "It is extremely rare to be able to sell a freehold office building with significant on-site car parking in Telford, and there is no doubt that the prominent roadside position added significantly to the attractiveness of the lot. We are very pleased with the sale price achieved, which was well in excess of our guide price".
09/01/2018
Letting of Major Office Building in Telford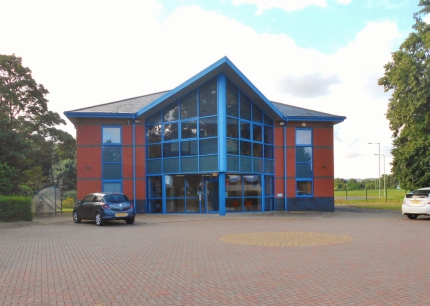 Andrew Dixon & Company reports the letting of one of Telford's most impressive stand-alone office buildings - Capital House at Hadley Park East. This modern, two-storey property extending to approximately 6,824 square feet has been let to Grange Fencing Limited as their new Telford headquarters building. The property is completed to a very high specification to include comfort cooling and also benefits from extensive on-site car parking.
Nicholas Dixon, who handled the transaction, commented "The excellent specification of this building, together with the generous car parking allocation, is perfect for use as the new headquarters for Grange Fencing Limited, and the impressive structure complements an excellent working environment".
24/10/2017
Major Warehouse Letting on Halesfield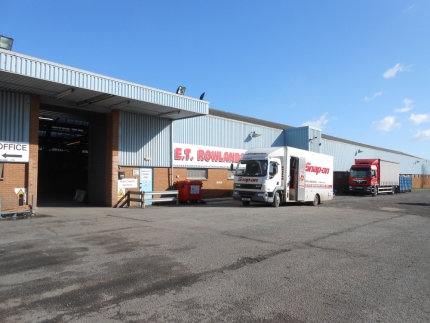 Andrew Dixon & Company reports the letting of a substanial warehouse unit on Halesfield 6. The property, which extends to 50,434 square feet and incorporates a substantial yard and offices, has been let to Birmingham based Cargo Express as a logistics hub serving the Telford area.
The building, which was only recently vacated, was the subject of unprecedented interest for a property of this type, and excellent terms were selected for the landlord.
02/10/2017
Double Deal Agreed on Stafford Park 12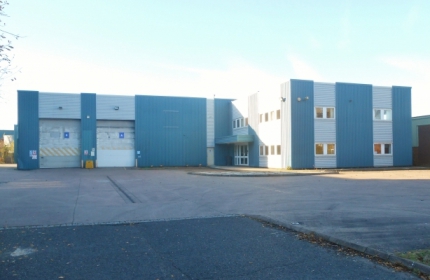 Andrew Dixon & Company is delighted to announce the sale of Unit C, Stafford Park 12, Telford to a private investor, with a simultaneous letting to a new tenant. The property, which comprises a high bay warehouse extending to approximately 24,000 square feet, was sold off an asking price of £875,000. Upon completion of the sale, the property was re-introduced to the market on a leasehold basis with an asking rent of £100,000 per annum and a new letting to 'Airea 51' was secured by Andrew Dixon & Company within a very short period of time. The tenant proposes to open a new trampoline park at the facility, which will commence trading in October 2017.
Alex Smith, who handled the transaction, commented "|We quickly identified a new business concern to take the building on a long lease following the acquisition by a local investor. This speedy turnover has provided the new owner with an excellent investment and very little delay in securing an income".
21/09/2017
Major Telford Investment Acquired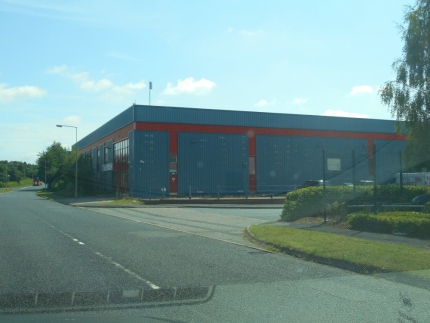 Andrew Dixon & Company reports the acquisition of a modern well-let warehouse building on Stafford Park 12, which extends to approximately 28,500 square feet. The high bay warehouse, occupied by a respected logistics operator, was the subject of an off-the-market transaction for a local investor family.
The building is let for a further seven years without breaks at a rent of £90,000 per annum, and was acquired for a yield of around 9%.
Nicholas Dixon, who handled the transaction, commented "We acted for the former landlord for over twenty years, having let the property a number of times, and when he suggested he was of a mind to sell, we quickly moved to acquire the freehold subject to the long occupational lease, adding it to a sizeable managed portfolio of similar assets in Telford".
01/08/2017
Significant Letting on Stafford Park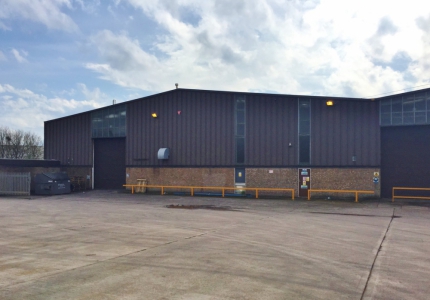 Andrew Dixon & Copmany announces the significant letting of commercial premises, including a warehouse of 20,000 square feet, a yard and 5,000 square feet of office accommodation, on Stafford Park 18 to vehicle recovery specialist Hough Green Limited of Widnes, Cheshire. The complex proved ideal for the company, who were looking to relocate their vehicle recovery operation in Telford, and significant investment has been made in the property.
Nicholas Dixon, who handled the transaction, stated "We quickly identified Hough Green Limited to take on this facility, which was to be vacated by an existing tenant with a short lease. The premises is ideal and a surrender of the exisitng lease and the terms of the new lease were all agreed and the new tenant in situ within three weeks of their initial viewing".
24/07/2017